Resume Photos - CV Photos

License: Rights of use for resume and social media like LinkedIn, Xing, employee profiles (private use).



1 x Photo with Basic Image Editing
Direkt Auswahl
Selection from about 25 different shots
Pre-payment by bank transfer, Paypal or cash on site

Outdoor photoshooting in Wedding
1 Photo with professional image editing (pimples, skin retouching)

Select via private link
Selection from about 40-50 different shots
Payment at the end (bank transfer, Paypal) or cash

Possibility to change clothes
Up to 2 different background colors
Outdoor and/or in the studio
Students groups resume photos on your place

up to 10 persons 55€ per person

from 10 persons 49€ per person

+ Mobile photo studio + On site 250€
(incl. 19% VAT)
1 x photo with basic image editing per person

Selection from approx. 5-10 different shots per person

Select via private link
Payment at the end (bank transfer or Paypal) or cash (together or separately)

Outdoor and/or in the studio
Private use, social media, student purposes
*The Basic Package Outdoor

includes a simple image processing of the photos, i.e. light, contrast, texture, color enhancement, among others. If you want additional retouching for example skin retouching, pimples, etc., costs extra

40€. Payment is made by bank transfer before the photo shoot, cash or Paypal. You will receive the photo in digital form.

**The Pro Package includes professional image processing of the photos, i.e. light, contrast, texture, pimples on the face, flying hairs,

Skin retouching,

Stains or lint on clothes, improving the color, among other things. If you want additional retouching, I will do it for free.


After that, all additional retouching costs 25€.

You will receive a high resolution photo in JPG and a lower resolution photo suitable for social media.
Additional photos with image editing, profi retouching and license 40€


It is possible to order the photos online and print them.

Rights of use: as an application photo, for Linkedin, Xing and social media.

Prices are valid in

Berlin and include 19% VAT.
Photography

in the studi

o or outside?
Photography for CV in Berlin-Wedding. With the Pro Package we can also take an indoor and outdoor shot, so you can choose what you like the most.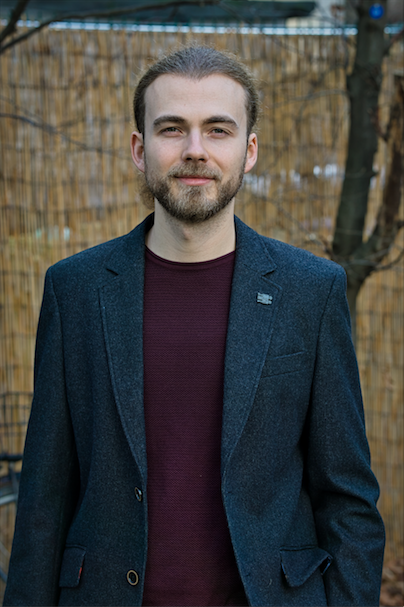 After the photoshooting, the selection is the most important thing.
With the Pro Package I will choose the best 40-50 photos of the photoshooting and I will send you a private link so that you can decide in peace and from home which is the best photo. Then I will edit the photo and send it to you by email.
(Available only for those who choose the professional package).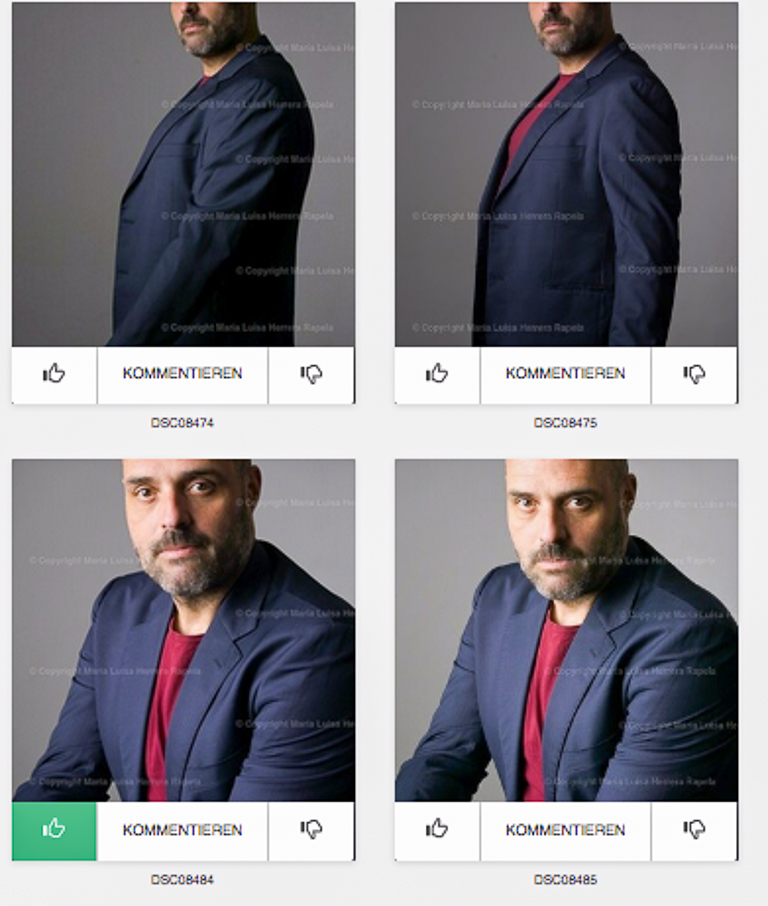 With the Pictrs-Tool for professional photographers* we can show you a first selection of photos so that you can decide on your favorite.
Create great resumes with Canva
Once the photo is ready, you can create your resumefor example, using one of Canvathousands of designs. The first two or three designs to download are free.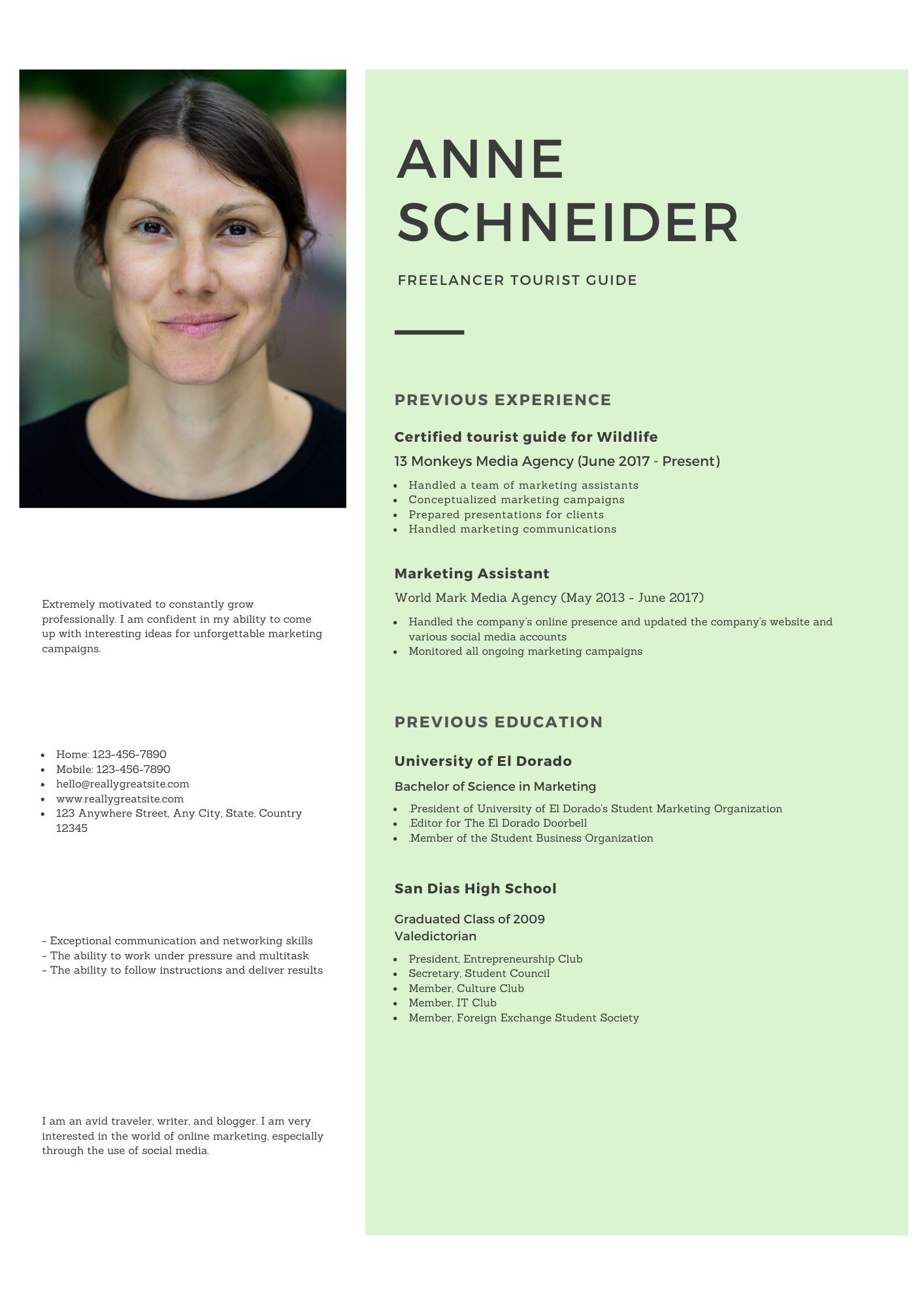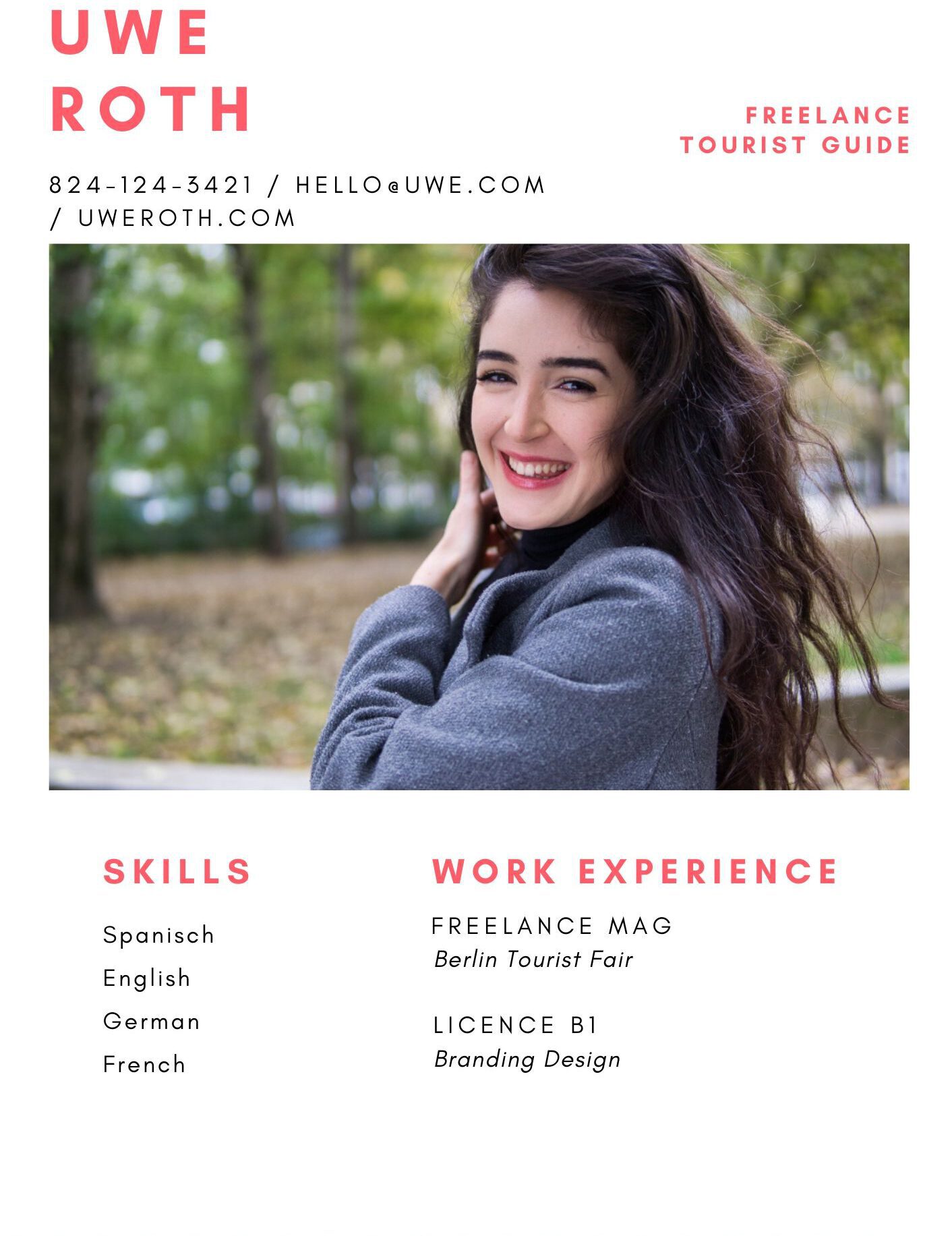 The dates and names are fictional and for illustrative purposes only. All rights to the photos reserved ©Maria Rapela.
Book your appointment now
I am just a few minutes walk from Wedding U/S station (U6). We can do the photos in the studio or outdoor, depending on which package you choose. Depending on the package you can pay cash or by bank transfer. For a photoshooting it is necessary to book an appointment and to exchange and to exchange the details, for example, whether a stylist will be booked or to give tips for the clothes.
Call me or write me, I will be glad to help you:
I offer a personalized service in English, French, German, Spanish or Italian.
Opening hours:
Monday till Saturday
from 12:00 till 18:00h
Phone: 49 (0) 17 644 277 015
E-Mail: info ( @ ) mariarapelafoto ( . ) com
Who is this offer for:
Photo portraits for resume in Berlin Mitte (Wedding)
Are you looking for a job? Do you need to update your photo on your resume to make the best impression on the job you're dying to get?
Application CV photo outside or in studio in Berlin Mitte (Wedding)
Whether you want an casual photoshooting outside or a more traditional studio photo, we can do both and try out what works best for you.

Traditional resume photo or relax and casual application photo
If you want a more traditional corporate style photo, we can take the photo in the studio, but if you want a more contemporary and dinamic look, we can explore the different possibilities to boost your personality with the Outdoor photos.
This is what my customers say
''With Maria Rapela I was for a classic (professional) application photo in the studio. She took a lot of time and I felt very comfortable at the shooting. We tried different outfits and positions and in the end I could choose between many beautiful photos. Maria carefully edited the selected photo as requested, so that you look natural and not completely retouched. I can definitely recommend Maria Rapela for job application photos." Betti Betti, Feedback per E-Mail